Process
How We Do It ?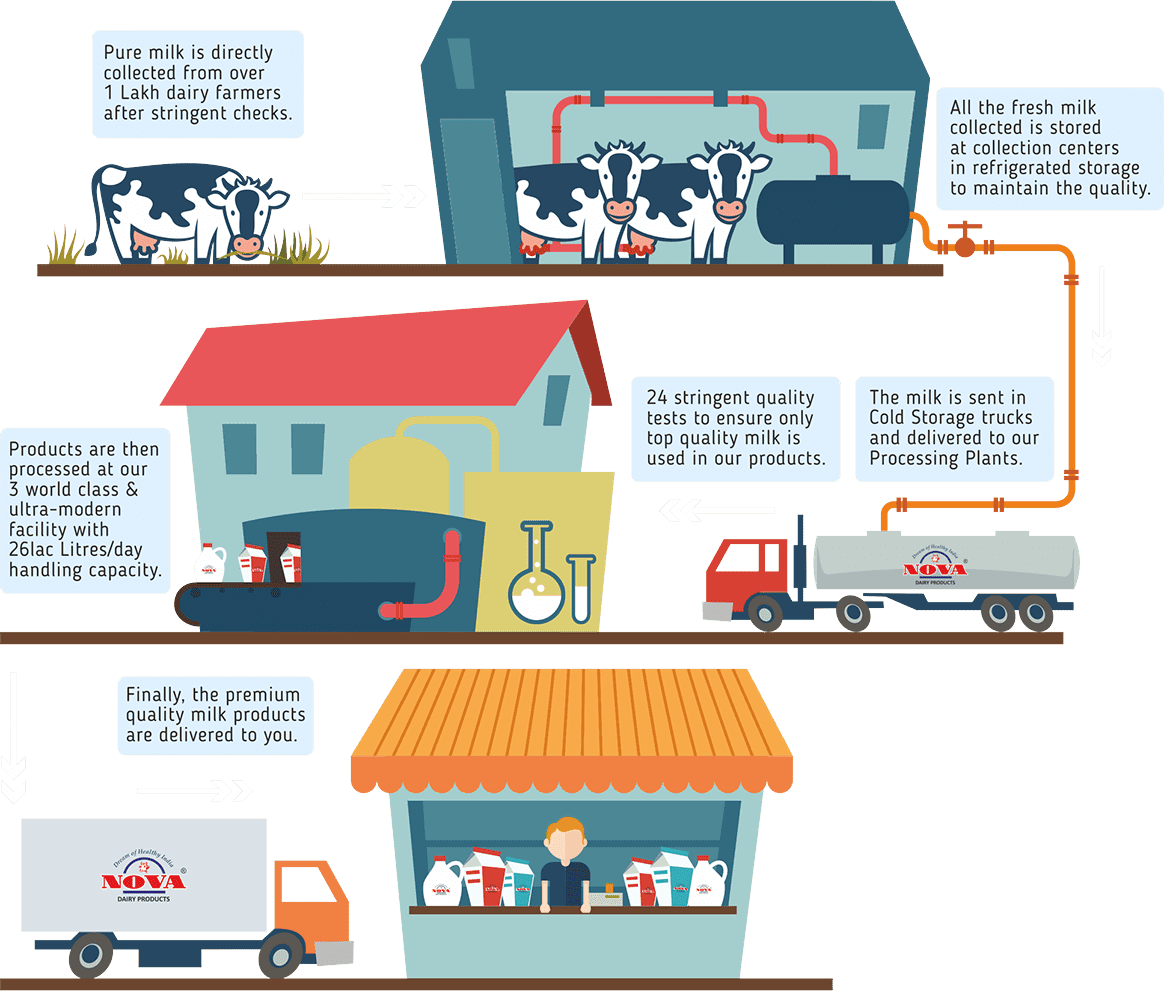 Our Policies
Quality Policy
The philosophy of Sterling Agro concentrates on the implementation of a well-structured Quality Policy.
Our Quality Policy is to provide our customers with dairy products, which are safe, produced under stringent hygienic procedures and which comply in all respects with customer specifications and all international legal requirements.
Each member of the staff working in production, packaging, storage and distribution are thoroughly trained in the highest food hygiene standards. Managers, supervisors and operators receive in-depth training to carry out quality tests at regular intervals.
We keep our farmers' dairy animals healthy and free of infections. Our success hinges on our capacity to serve those who buy our products. We continually strive to institute a climate of confidence, credibility, and satisfaction with our customers by providing the highest-quality dairy products (cow ghee, flavoured milk, dairy whitener, desi ghee, skimmed milk powder etc) which promotes continuous business.
Safety Policy
The safety of our dairy products is assured through regular reviews and quality control in accordance with the Food Safety and Standards Authority of India.
Sterling Agro does not employ artificial means of production or use synthetics in producing any of its products. Priority is given to identification and taking corrective actions for perceivable risks with the aim of preventing accidents and production safety.
Our products are thoroughly checked for bacteriological and microbiological tests such as standard plate count, coliform and bacterial spore counts, chemical tests such as tests for fat%, SNF%, protein and ash and tests for adulterants such as preservatives, neutralizer and urea. Any non-conformities are instantly weeded out.
Environmental Policy
We, at Sterling Agro, are fully aware of the importance of a safe and healthy environment and our Environmental policy ensures that products are manufactured in harmony with nature.
Some of the initiatives to ensure the same have been installation and operation of wind-based electric power generation plants in 5 States across India for pollution free electricity. Morevoer, intensive water treatment plants treat all waste water produced at our Malanpur Plant, making it hygienic for the environment.