Skimmed Milk Powder
Skimmed Milk Powder
Building a Stronger Tomorrow
Skimmed milk powder is uniform in composition, white & cream-colored with flavor and odor as sweet, clean and free from rancid or other objectionable flavors and odors.
NOVA Skimmed Milk powder is manufactured by means of evaporation (vacuum concentration of milk solids) & drying in most hygienic manner & packed in environmental controlled & segregated rooms.
The high nutritional quality combined with its versatile and multi-functional properties, SMP Milk Powder finds its application in reconstitution, recombination, confection & bakery, sports & nutrition foods, cultured products, ice-cream & cheese.
Skimmed Milk Powder is available in heat classified variants such as Medium Heat & Low heat, which imparts exceptionally good applicability in cheese making, cultured product and confectionary / bakery & as nutritional supplement.
NOVA Instant Skimmed Milk Powder is great in its reconstitution and recombination abilities.
Market variants of NOVA Skimmed Milk Powder include: -
a. NOVA Super – Suitable for use in Chhena, sweetmeat & Ice-cream
b. NOVA Special – Great for use in Chhena, ice-cream, bakery, confectionary, sweetmeat and all-time milk preparation
c. NOVA Gold – High protein & low heat variant suitable for wider use in all milk based food preparations
NOVA Skimmed milk powder provide a valued source of nutrients such as protein, fats, carbohydrate, vitamins & minerals and these are beneficial in:-
- Replenishing & building muscular health due to high-quality proteins which are readily digestible and probiotic.
- Development & maintenance of Bone & Teeth due to High level of Calcium & Phosphorus.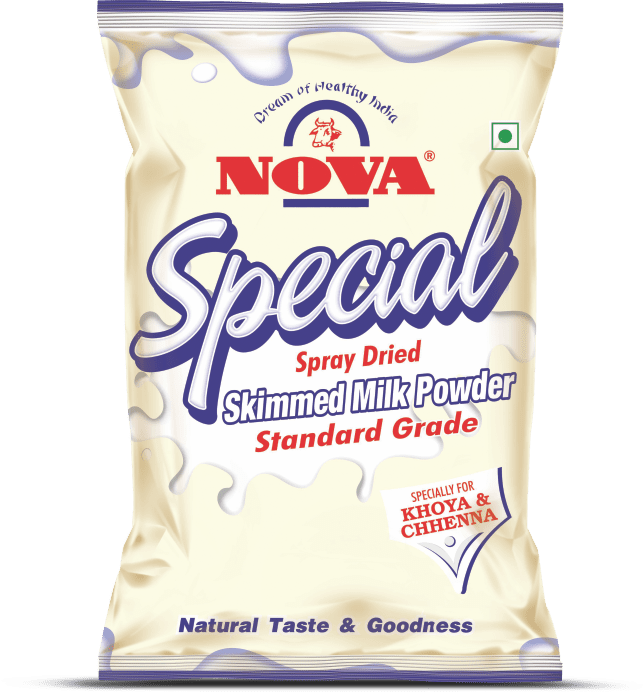 Packaging Available
Nova Premium
Nova Special
Nova Gold
Nova Super