Dairy Creamers
DAIRY CREAMERS
( FOR HEALTHIER & TASTIER INDULGENCES )
The world of taste isn't truly the one without a really great dairy creamers, so Nova dairy creamer is a perfect mate that transforms your beverages into a creamy delight. Processed from pure cow milk and the best of ingredients, it mixes well with your tea and coffee while enhancing their flavour. Manufactured under sterile conditions and packaged with multilayered protection, Nova dairy creamer has a longer shelf life and offers a high whitening capacity that comes with a pleasant experience when added to coffee, tea, and smoothies. We aren't exaggerating when we say that Nova manufactures one of the best dairy creamers in the market.
Sourced from well-fed cattle, milk used in our dairy creamer is of high quality that comes in accordance with the highest food safety standards.
While being free from artificial preservatives, it is also rich in other nutrients that are essential for body.
Sterilized at high temperature and packed aseptically to give you a safe, rich creamer which stays fresh, Nova dairy creamer has been processed to give smoothness, rich flavour & colour consistency, every time.
It consists of added sugar, milk fat, milk proteins, and natural flavours which are good for health with no side effects.
It is an ideal substitute for fresh milk during travel and is best suited for low-fat tea or coffee.
Being one of the leading dairy companies in India, Nova dairy products come with trust and assurance of purity, taste & consistent quality. Made from high-quality ingredients, our products offer many health benefits:
The presence of vitamin A helps to promote the vision health
It promotes the health of the skin, hair and nails
Help in making bones stronger and healthy
Reduces stress and assists in mental fitness
Enhances immunity while promoting white blood cells activity
Whether you want to whip up some homemade ice cream, Kheer, Gulab Jamunor want to add a tint of sweetness to your morning coffee, or enhance the aroma of your food, Nova dairy creamers come with all possibilities.
Check our other products like dairy whitener, skimmed milk powder, shudh ghee, cow ghee, butter etc.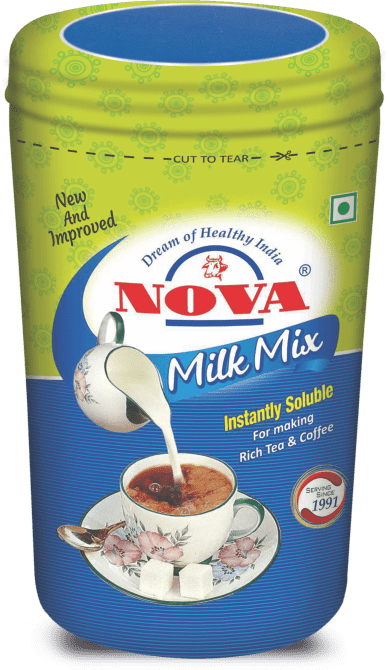 Packaging Available
Nova Milk Mix
Aone Dairy Creamer
Nova Dairy Mix
3 G POUCH
12 G POUCH
12 G POUCH
5 G POUCH
500 G POUCH
22 G POUCH
100 G JAR
1 KG POUCH
100 G POUCH
200 G JAR
10 KG JAR
10KG Nova Dairy Rich jar
500 G JAR
10KG Hello Milk Mix Jar