Cow Ghee
Pure Cow Ghee
A PROMISE OF TASTY AND HEALTHY LIFE
Cow Ghee is a granular golden yellow semi-viscous product having a rich aroma. We still nourish the delightful memories which are reminiscence of great olden days of traditional homemade ghee. The Sterling Group under its brand NOVA, have now presented traditional Cow Ghee which complements our cooking and adds unmatched taste and flavor to the recipes. At Nova, we have meticulously blended tradition with technology to manufacture pure cow ghee by using pasteurized fresh cream. Consistent mechanical churning convert cream into butter which is then cooked in controlled conditions of temperature to improve the flavor /aroma of the product. The fat is filtered, clarified and packed in pre-cleaned containers followed by granulation in slow gradient cooling process.
Our Cow Ghee Suppliers manufacture & package desi ghee in a meticulously hygienic environment, free of human touch.
COUNTLESS BENEFITS OF PURE COW GHEE
An ideal diet and full of nutritional properties, Pure cow ghee is a traditional & sacred sign of auspiciousness, good health, and healing. A spoonful of ghee has always been considered to add pure taste, aroma & richness to the entire meal. Loaded with the health benefits and goodness of cow milk, Nova is one of the finest manufacturers of cow ghee in India. If you are looking for the best taste, texture, color, and packaging all in one product, Nova ghee is your pick. If you want to buy pure cow ghee online then you can visit our e-commerce partners like Flipkart, amazon.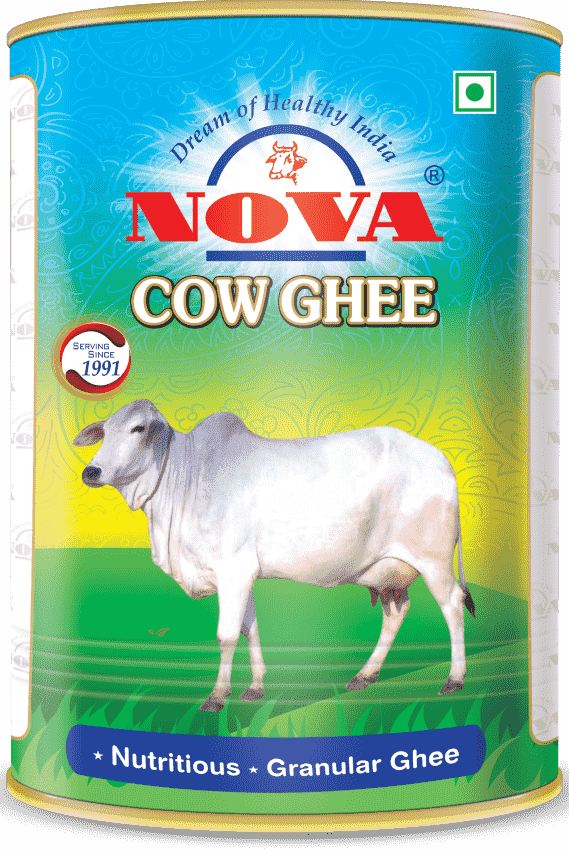 Packaging Available
Ceka Packing
Pet Jar packing
Tin packing