Dahi
Dahi
The word Dahi is derived from the sanskrit word dadhi, one of the five elixirs, or panchamrita, often used in Hindu ritual. Dahi also holds cultural symbolism in many homes. Fermented dairy products have long been an important component of nutritional diet in India.
The modern microbiological processes have resulted in the production of different fermented milk products of higher nutritional value under controlled conditions. These products represent an important component of functional foods.
Nova Dahi is manufactured under most hygienic conditions using best quality milk and employing active FD microbial cultures. For the benefits of all class of consumers, the product is available in different packs and sizes. Being at the heart of various Indian traditions, Nova Dahi has a special place in our customers' daily diet. Check our other products like pure cow ghee.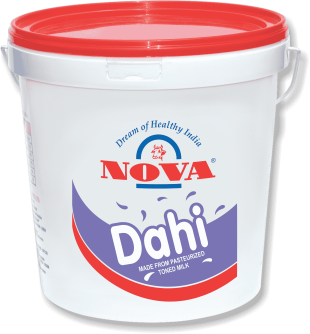 Packaging Available
Cup
Toned Milk-90 GM, 180 GM | Double Toned Milk-90 GM, 180 GM, 400 GM
Pouch
Toned Milk-400 GM, 1 KG | Double Toned Milk-180 GM, 400 GM, 1 KG Skimmed Milk-180 GM, 1 KG
Bucket
Toned Milk-500 GM, 1 KG, 5 KG, 15 KG I Double Toned Milk-5 KG, 15 KG
Matka
Skimmed Milk-5 KG, 15 KG